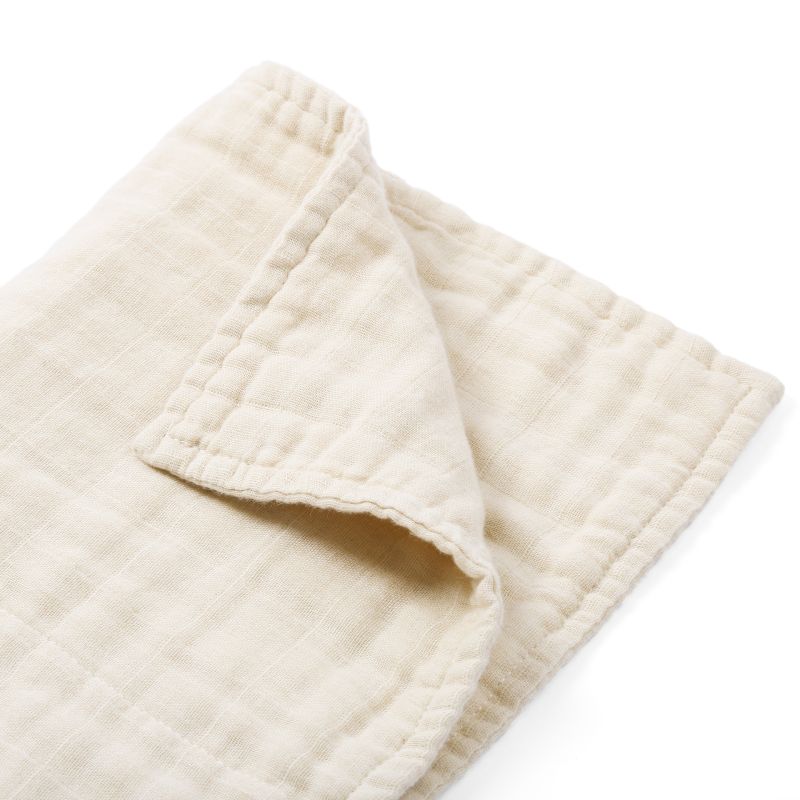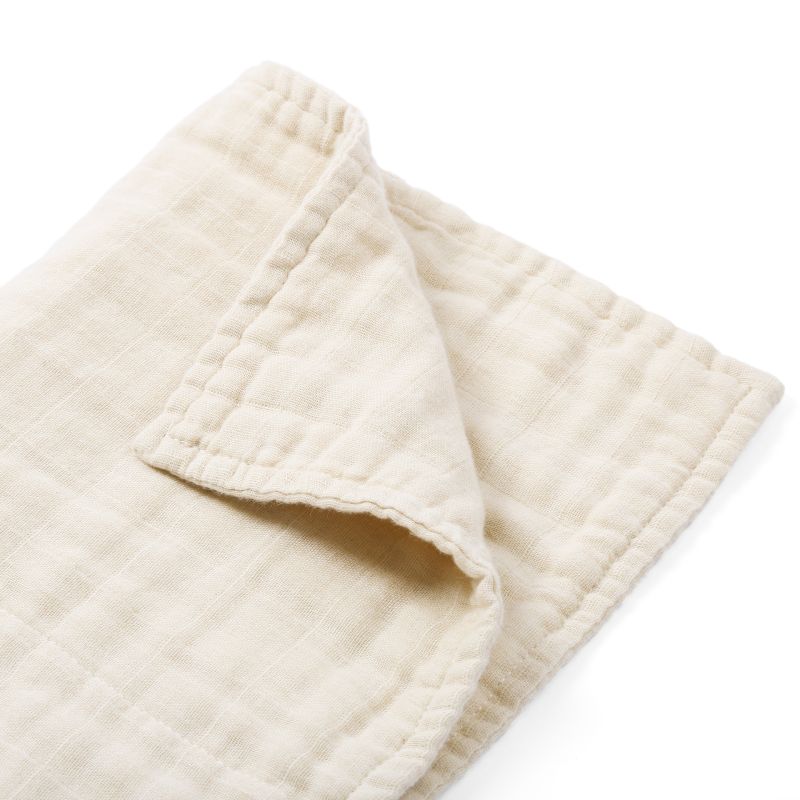 Organic 6 Layers Muslin Square (35 x 35 cm)
Our muslin square is made of 6 layers of organic loosely-woven muslin cloth, allowing them to absorb and dry quickly.  Perfect for feeding and wiping down your baby, the 'air cushions' in between layers can give a much softer touch compared to a single layer muslin square.
Features:
Made with 100% organic Primary cotton (including sewing threads)
Guaranteed 100% chemical-free, dyes-free and fluorescent agents-free
35 x 35 cm in size
Suitable for any age
We will donate £1 to WaterAid
Designed and made in the UK
THE PETIT SOLDIER's clothing is made from 100% organic PRIMARY cotton and is certified by the Global Organic Textile Standard (GOTS) (refer to our international certification). PRIMARY cotton are high quality cotton which are not processed with chemical bleaching process so they retain the most natural and original cotton colour.
Our organic PRIMARY cotton clothings are free from chemical and pollution, to provide the cleanest and safest environment for babies and the natural ecosystem.
As chemical pesticides and fertilizers are not used during the plantation of our cotton, the growth cycle is longer than conventional cotton and the production is lesser, but they are much stronger. Also organic PRIMARY cottons have not treated with the bleaching process and other harsh chemicals, so our clothings are more durable and softer.
We guarantee our cotton are:
Certified
by GOTS
Newborns
safe
100%
Sustainable
No dyes
No phosphors
No pesticides
No heavy metal
No formaldehyde
No chlorophenols
Region
Country
Delivery
Courier
Shipping fee (£)
Free shipping (£)
Asia
????????Hong Kong
7 days
Royal mail International Tracked
£ 15
Over £ 67
????????Taiwan
????????Macau
????????Malaysia
????????Singapore
????????China
7 days
STO Express
£ 20
Over £ 80
Pacific
????????Australia
14 days
Royal mail International
Tracked & Signed
£ 20
Over £ 85
Europe
????????The United Kingdom
Next day
Royal mail 1st Class
£ 5
Over £ 30
Other
7 days
Royal Mail Tracked 24®
£ 15
Over £ 67
America/ Canada
????????America
14 days
Royal mail International
Tracked & Signed
£ 20
Over £ 85
????????Canada
14 days
Other regions
14 days
Royal mail International
Tracked & Signed
£ 20
Over £ 85
Refund
You can return any full-priced items within 30 days of purchase. All returned items must be unworn, unaltered and in its' original THE PETIT SOLDIER packaging. Returns typically take 10 business days to be processed once it reaches our warehouse, and credit card refunds take up to 5 – 10 business days to appear on your statement.
Items/orders that do not meet our return & refund policy will not be accepted and will be sent back to the customer.
Simply contact our customer care team and we will assist you with arranging your return. Customers are responsible for the international shipping fee and ensure that we receive returned items.
※ Please note that:
Customers are responsible for all import duties and other fees incurred during the return process.
Customers are responsible for the legal problems of the shipment.
We will only re-send the shipment after customers settle the import duties of other fee of return items.
If the delivery is unsuccessful because customers provide incorrect information, customers are responsible for the fee of return items. We will only re-send the shipment after customers settle the import duties or other fee of return items.
If the shipment does not arrive on time, please our customer care team